Doctoring Rewinding Machine
Krishna Engineering Works
is a leading manufacturer of doctoring rewinding machine. These machines are widely used for on-line printing of Mfg Dt., Exp. Ta. B. number etc. Roll-to-roll at high speed using ink-jet printers or other contact coding machines and then these printed rolls are used in various packaging machines in any paper, film and foil converting industries. We manufacture rewinding machine with different models as per the requirement of the customers.
We have been successfully Manufacturing, Exporting & Supplying all types of doctoring inspection machine, Doctoring Rewinding Machine Table Top, winding rewinding machine,
doctoring slitting rewinding machine
, heavy duty winding rewinding machine and rewinding machine with slitting system. It is the best option for online coding / batching operation in doctoring rewinding machine.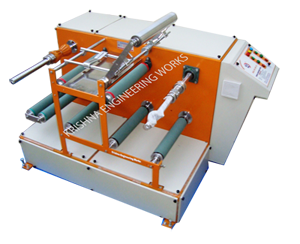 Doctoring Machine Features

Unwind stands are precisely arranged to accommodate a wide variety of materials and sizes.
Large diameter driving wheels are made of rubber to prevent scaling of the web.
Edge guiding system is adopted, the easiest rewinding edge is ensured.
Magnetic powder clutch ensures proper tension for different materials. Provision to include inkjet printing system with ink drying in hot air.
It is an excellent option for online coding / batching operations.
Unwind the tension auto controller with the load cell sensor.
Convenient height for operation
Compact design
Variable speed drive
Double drive
Technical Specification

Web width

100 to 1500 MM

Max. Weight of Unwind

100 to 1000 KG
(Different models for different weight)

Max. Parent Reel Dia.

400 MM

Max. Rewind Reel Dia.

400 MM

Rewind Core Dia.

76 MM

Motor

2 HP AC / DC Motor (3, 5 HP also available on suitable model)

Maximum Designed Speed

100 to 150 Mtrs / Min